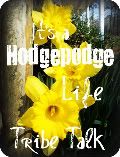 So I'm a recent follower to Hodgepodge and am new at Tribe Talk, but I thought I'd give it a whirl. If you're also unfamiliar with it, I suggest you go check it out! It's a great way to find out about other blogs you might not have heard of and to get your blog out there for others to find (and fall in love with.)
The gist is you pick 5 blogs that you love and would love to share with the world, post them, and then link that post to the weekly Tribe Talk so others can "meet" them as well as check out your blog. Sounds cool, huh? Here I go!
My 5 Picks for this week:
Hope you love them as much as I do! Here's a couple reasons to entice you:
Tea Rose Home is giving away
an
awesome Christa Taylor apron!
and