I've got something fun to share with you all today. If you're a busy mommy like me, you don't have a lot of time to do your nails. I know I don't have 45 minutes to paint my nails, and wait for them to dry. And it seems like every time I do my nails, they're all messed up 5 minutes later, so all that effort and time was for nothing.
And forget going to a nail salon. I just don't have the time or money to be going to get my nails done every two weeks. I'd need to find a baby-sitter for the little guy ('cause there's no way I could take him with me), make an appointment and sit there for an hour. While it is nice to have someone else do the work for you, because I am by no means against salon manicures, we all know that it's always doable or practical for our lives.
That's why these new nail polish strips that are popping up everywhere are so awesome.
They come in solid colors or fun designs, as you can see on my nails, and cost about the same as you would spend at the salon (or less, depending on which brand you buy.)
The kit comes with an assortment of strips in different widths-genius since not everyone's nails are universally the same size-a file/smoother/buffer and a mini orange stick. I found them to be very easy and quick to use. After filing, smoothing and buffing your nails, you find the strip that best fits your nail, peel off the backing, smooth it on using the orange stick and pull off the extra, then smooth away the edges and that's it-you're done! No waiting for your nails to dry, no worrying about smudges. And since the strips are actually nail polish and not stickers, they don't peel off. I've had mine on for almost a week and no chips or peeling. And I've done everything from the laundry to the dishes to dying my hair to bathing my son. So they really hold up! When it's time to take them off, you just use regular nail polish remover.
Seriously the best invention.
Here are some more of the colors and effects they come in.
Sally Hansen Salon Effects Real Nail Polish Strips, $8.50 (at Walmart. $9.99 at drugstores like CVS or Walgreens)
If you feel like a bit more of a splurge, OPI has a line out for Sephora
(and for you Glee fans, they even have a Glee-themed line. How fun!)
So now your hands can be dressed up without fear of chips or smudges!

Happy Friday!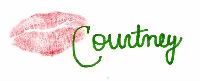 I was not asked to write this post nor was I compensated in any way for this post by either Sally Hansen, Sephora, OPI or anyone else. All opinions expressed are 100% my own. I simply found a great product and wanted to share it with you guys!