..that you all like me, you really like me!
Just kidding with the theatrics there. Chalk it up to my college drama club days. But in all seriousness, I do want to thank Kimbo West from A Girl and A Glue Gun for finding me and giving me this:
You are too kind!
You can check out Kimbo and her adorable blog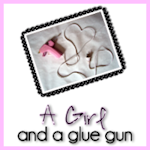 And now to pass it along. I love awards that you get to give to others! Here are the rules:
1) Thank the person who gave you the award.
2) Share 7 things about yourself.
3) Pass the award on to 10 bloggers you've recently discovered and think are just fabulous (in no particular order.)
4) Let those bloggers know you've selected them for this award so that they can pass it on, too!
Ok, so 7 Things About Me:
1. I am in no way, shape, form or fashion a morning person. I don't think I ever will be. 8:30 is early for me.
2. My favorite thing to do in the whole wide world is just goof off with my husband and son.
3. I hate pink. I'm probably one of the only girls in the universe to say that. Not that I won't wear pink. I own some pink. But it's definitely on the bottom of my list of colors I like.
4. Having said that, if I ever have a daughter, she will probably love pink. And I won't care.
5. I could spend every penny I ever earned on make-up or craft things.
6. I wish I could play an instrument really, really well. Preferably the violin.
7. When I was younger, like high school younger, I thought I'd never get married. My plan was to move to NYC, pursue a theater career, be a poor, starving artist and have 10 cats. Didn't happen and I'm so glad about that.
And the awards go to:
You ladies rock!