So,half of my posts from this last week have just disappeared, including the last two cookie recipes for the countdown. I'm re-posting them for your reading pleasure :)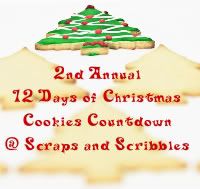 This yummy morsels are from my awesome Grandma-in-law and they are fabulous!
1 cup butter or margerine (butter is best)
1 cup ground nuts (I like pecans or walnuts)
Red food coloring (optional)
Cream butter and sugar thoroughly.
Add a few drops of red food coloring here if desired
Add flour - 1/2 cup at a time.
Chill for at least an hour.
Shape into small balls about the size of marbles.
Bake at 300 degrees for 30 minutes.
Cool and then roll in powdered sugar OR
Roll while hot in powdered sugar and again when the cookies cool. (Best)