It's that time again!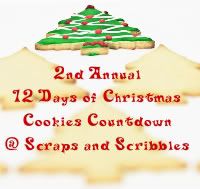 If you ask my father, Christmas doesn't really come unless there's cookies (specifically cut-out sugar cookies, but you get the idea.) To get the holiday spirit started, I like to share yummy Christmas cookie recipes with you all. I started it last year when my blog was a baby (which reminds me-I totally spaced on my blogiversary last month! So happy belated birthday, blog!)
I've decided to make it a tradition. So, here it is again!
And I'm mixing it up a bit this year. There's a linky party that will be going on and I'll be sharing and showing off your wonderful recipes so everyone can get in on the fun. Grab the button and add it to your post if you link up so others can join in on the party, pretty please!
Without further ado, here's today's cookies:
Who loves buckeyes? I do!
Christmas Cookies.com has a great recipe for this holiday favorite that's easy to make. Head on
over
and check it out. I think this would be a great one to do with the kiddos.
Don't forget to link up your Christmas cookie recipes!