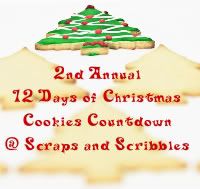 Here's another great recipe from Robin!
Perfect Vanilla Spritz Cookies
(with a cookie press or decorators bag and tips)
1 cup butter, room temp
1 cup white sugar
2 eggs
2 tsp vanilla extract
1/2 tsp lemon juice
1/2 tsp salt
2 1/2 cups flour
Preheat oven to 375.
Cream butter and sugar until smooth. Beta in eggs, vanilla, lemon juice and salt.
Add flour, beating until a soft dough forms. (At this point you can add food coloring if desired)
Pack dough into cookie press or decorators bag and press onto ungreased cookie sheet.
Bake until golden, about 10-12 min.
Transfer to cooling racks. Store in an airtight container up to 4 days.
These are a scrumdidliumtious little treat.
Enjoy your day, enjoy your family and happy baking.
Merry Christmas!